Spring has sprung! This means spending more time outdoors with our furry friends! This shift to warmer weather is also a reminder that flea and tick season has begun. In Alberta, the season is active between the months of March and October. As pet lovers, it is our responsibility to provide our companions with prevention against these pests.
Making a Safe Choice for Your Pet
There are many different forms of parasite prevention out there. Topical medications are the ones we hear about most often. They are featured as being the strongest form of prevention – quickly deterring and killing pests. Unfortunately, they also contain potentially dangerous chemical ingredients, which can cause severe side-effects in our beloved pets.
A few years ago, I used these topical preventatives with my own pets.  After one season of use, my cat developed a bald spot on the area of application, and one of my dogs started vomiting the days following her dose. These adverse reactions immediately prompted me to start researching safe alternatives.
Our pets trust us to make informed decisions on their behalf. We must look beyond product claims, and focus on the ingredients of items and how safe they really are.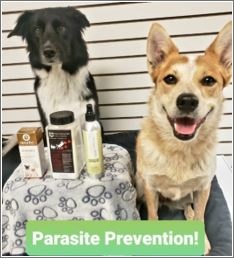 Pictured Above: My two dogs, North & Sophia, promoting parasite prevention!
Peace of Mind with Natural Prevention
We carry several natural preventatives, and I would like to share my favorites with you!
Natural 4 Life Bite + Protection Spray:  
This 100% natural, Canadian made spray smells AMAZING and repels pests!
Before heading outside, I spray my dogs all over (not the face!) and comb it throughout their entire body.
It is 100% absorbent, so it doesn't leave coats greasy or cause irritation.
Click here to view this product on our website.
Baie Run Diatomaceous Earth:
Diatomaceous Earth is the powdered fossils of tiny microorganisms called diatoms. These razor-sharp particles are deadly to parasites, but safe for pets.
For external protection, I apply it throughout my dogs' coats once per week, during flea and tick season.
I also add D.E. to my dogs' meals every other day, as internal prevention against parasites and worms (not heartworms).
Mix 1 tsp of D.E. per day in food for dogs up to 50 lbs, and 1 Tbsp per day for dogs over 50 lbs.
Click here to view this product on our website.
Naturpet D Wormer:
This bitter tonic is used as prevention against worms (not heartworms), as well as fleas and ticks.
This is my favorite form of parasite prevention for felines, and I use it with my own cat. It mixes right in with his food, so he doesn't even notice it!
This tonic is also great for improving digestion, as it contains several different herbs. I like to recommend it for pets with sensitive tummies.
Click here to view this product on our website.
Apple Cider Vinegar:
AVC is a great internal preventative. When consumed, a dog's blood develops a bitter smell and taste, which is a deterrent for pests!
I add this to my dogs' breakfast every other day, during the season. It's gentle on digestion, and when mixed well with food, most dogs won't even notice it!
Give 1 tsp of AVC per 20lbs of dog, for the daily internal dose.
AVC is found in most grocery stores. Ensure it is labeled as raw and unfiltered.
Recognizing Symptoms of Parasites
If your pet experiences symptoms such as: weight loss, low energy, diarrhea, vomiting, scratching, biting, or red bumps on the skin - they may have picked up a parasite. Preventatives of any kind can never be guaranteed as 100% effective. It is always best to seek advice from your veterinarian, if your pet displays any of these symptoms.
Stay Healthy and Have Fun!
Making informed decisions for our pets can be overwhelming at times. This is why we are dedicated to the well-being of your pets. We are always here to answer any questions you have, and assist you with what you need to keep your pets happy and healthy.  Stay positive, go on adventures, and remember - your pets are proud of you!
All My Best,
~Bree